Welcome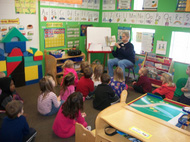 Welcome to Kid's Korner Educare Center, Inc. Kid's Korner Educare is a non-profit 501(c)(3) corporation which has provided early childhood education and family services to the Owatonna community since 1991.
MISSION STATEMENT
Educating today for a brighter tomorrow.
We are licensed through the State of Minnesota Department of Human Services and Nationally Accredited by NAC, NECPA and we are also
Parent Aware 4-Star Rated

14th Annual PumpkinFest
October 28th, 5 - 7PM
Enjoy a spooktacular time at the 14th Annual PumpkinFest!
More Information

Why Kid's Korner Educare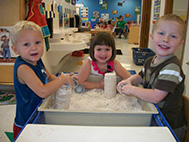 At Kid's Korner, we believe a strong family unit is the core to raising a successful child and we feel strong families contribute to the strength and vitality of our community. Additionally, one of the most important decisions a parent will be called upon to make in the early years of their child's life is the selection of a quality childcare provider.
The individual(s) chosen to care for children will influence the child academically, emotionally, socially, and morally. Therefore, the care selected will ultimately affect the outcome of the child's entire life.
Kid's Korner Quick View
1

Choosing the Right Care

Choosing childcare is one of the most important decisions parents will make during their child's early years. At Kid's Korner Educare, we understand how difficult that decision can be — but also know how wonderfully rewarding the right childcare choice can be for both parent and child. The individual or individuals chosen to care for your child will influence them academically, emotionally, socially, and morally. Therefore, the care selected will ultimately affect the outcome of your child's entire life. We invite you to try our alternative to the traditional method of day-care and preschool. The superior childcare and unique educational system at Kid's Korner Educare will ensure a positive experience for you and your child.

2

Program Goals and Educare

Each child's self-esteem is enhanced by providing strong, positive messages about their worth and competency. We offer a balance of active and quiet play, as well as structured and unstructured time each day to encourage children to experience and express themselves in different ways. We recognize that intellectual growth and emotional well-being go handin- hand, and plan for group activities with each child in mind. We provide a rich mix of multi-cultural and diverse ethnic experiences that celebrate each child's family and community and seek out opportunities to bring the world into the classroom to stimulate curiosity and discovery. Kid's Korner Educare works closely with our public and parochial school systems to help prepare children for their academic years, while continuing to promote and foster cheerfulness, discovery, self-esteem, and multicultural sensitivity.

Our teachers teach in ways that match how children develop and learn. We do this by integrating and practicing skills and prior knowledge that supports the children's academic, social, emotional, physical, cognitive, language and communication, nutritional, cultural, and educational progress. To best facilitate the curriculum, Kid's Korner creates a monthly theme, which is utilized throughout the Center, to enhance and incorporate appropriate practices for all ages. From this theme, each classroom has individualized lesson plans implemented on a weekly basis. In turn, our entire Center creates and utilizes a variety of mediums and methods to empower children to succeed and grow. Our Center has an open door policy in which parents are always welcome to join in their child's daily classroom activities or to stop in and visit their child.

A creative, quality, planned curriculum can play a crucial role in benefiting a child's development. By creating an environment of challenge, excitement, repetition, and newness, children will explore and learn at a developmentally appropriate pace. Incorporated into the curriculum are a variety of subjects: For large muscle development, physical activities are implemented a minimum of twice a day, whether it be a walk, playing in one of the two gyms, or playing in the large, outdoor fenced-in playground.

5

Teachers and Volunteers

Our teachers and aides provide more than just attentive care for your child. Each staff member is trained in SIDS, Shaken Baby Syndrome, Infant and Child CPR, First Aid, Blood Borne Pathogens, and many other topics pertaining to the education, care, health, and safety of young children. Their attitude of professionalism is exhibited in the care they give your child. We expect the best from our teachers and they deliver. Kid's Korner also obtains the service of volunteer grandparents who may spend time in your child's classroom. This opportunity can enrich your child's life through the special bond that is created across generations and is beneficial to both child and adult.
We foster discovery and self-esteem, promote social, emotional, physical, and cognitive development of children in a creative and explorative manner, and plan and implement professional development of our staff.
Kid's Korner Educare works closely with our local Public and Parochial School Systems to help prepare the children for their academic years and continue to promote and foster cheerfulness, discovery, self-esteem, and reflect multi-cultural sensitivity. We attain this through group and individual play and activities, teacher and self-directed activities, and unique hands-on educational experiences for the children.
You Shop, Amazon gives.
Amazon will donate 0.5% of the price of your eligible AmazonSmile purchases to Kids Korner Educare Centers Inc whenever you shop on AmazonSmile.
AmazonSmile is the same Amazon you know. Same products, same prices, same Amazon Prime benefits.
Support your charitable organization by starting your shopping at http://smile.amazon.com/ch/41-1753745
Now Hiring!
Kid's Korner Educare is accepting applications for employment in our Early Childhood Education program. Applicants must be responsible individuals who are willing to learn and possess good communication skills. Kid's Korner Educare is Nationally Accredited, offers competitive wages and benefits. For an application please stop in at 600 Florence Avenue, email info@kidskorner.org or call 507-451-0312.