Annual Fundraisers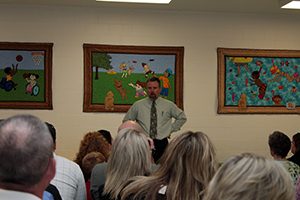 The purpose for our fundraisers is to enhance your child's environment and raise awareness of Early Childhood Education in our community. All proceeds are directly used for classroom curriculum, toys, games, playground equipment and to help sponsor the center's activities.
Kid's Korner has three primary fundraisers each year:

In the Winter: Family Fun Night. In preparation for Family Fun Night, each of our classrooms prepare a basket representative of their individual classrooms. Along with this, we solicit the community for baskets and donations we can place on a silent auction. We then determine a date and location and gather for a fun evening of food, games, and fun while raising money for the program.

The early summer: Steve's Meat Market. Steve's Meat Market is located in Ellendale, MN and they are renowned for their quality meat products winning numerous State and National Championships for their quality products. We work closely with Steve's Meat Market to offer a selection of choice meat products you can purchase for personal consumption. This is a "Win-Win" fundraiser because while a portion of the sales proceeds are returned in support of Kid's Korner Educare programming, the participants get to enjoy some of Southern Minnesota's Award Winning products.

In the autumn: a Holiday Fun Raffle. Kid's Korner each year conduct a Holiday Fun Raffle. The Holiday Fun Raffle is designed to sell tickets for a determined amount of time and then we draw winners over numerous days. We announce the winners each day via email and send out the winnings. What is especially fun about the Holiday Fun Raffle is individuals have multiple chances to win with the purchase of a single ticket. Once again, the proceeds are invested back into our program offering enhanced opportunities and materials for our classrooms.

Throughout the year we also participate with Campbell's – Labels for Education, Coburns - Labels for Learning, General Mills - Box Tops for Education, Kemps – Nickels for Schools, Kwik Trip's- Milk Moola, along with others. Please see the administration for redemption participation and questions.
Contact Details
600 Florence Avenue Owatonna, MN 55060
507-451-0312