Non-Profit and Accreditation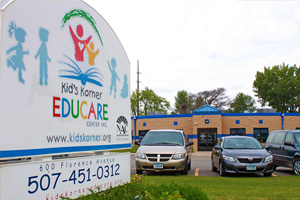 Non-profit Information
Kid's Korner Educare is a non-profit 501(c)(3) corporation which has provided early childhood education and family services to the Owatonna community since 1991. We are audited each year by independent Certified Public Accountant and we are registered with the State of Minnesota Attorney General www.ag.state.mn.us.  .
 We are licensed through the State of Minnesota Department of Human Services and Nationally Accredited by NAC, NECPA and we are also Parent Aware 4-Star Rated.

Links to Accreditation Sites
NAC Accredited  www.naccp.org
NECPA Accredited www.necpa.net
Parent Aware 4 Star  www.childcareaware.org
Attached is our State non-profit letter
Attached is our Federal non-profit letter
Contact Details
600 Florence Avenue Owatonna, MN 55060
507-451-0312