About Us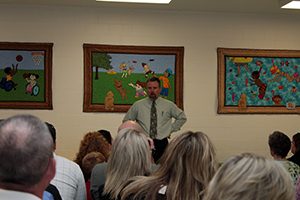 MISSION STATEMENT
Educating today for a brighter tomorrow.

PURPOSE
The purpose of Kid's Korner Educare Center, Inc. is to promote the strengthening of the family unit by creating a safe, supportive, and nurturing environment that offers care, education, health, nutrition, developmental services and character development regardless of race, color, national origin, sex, religion, age, disability, political beliefs, sexual orientation, and marital or family status.

PHILOSOPHY
We believe that children learn through play in all its forms: educational, developmental, self-directed, as well as group activities. To enhance this learning, we feel it is imperative to have dedicated, loving caregivers who instill individual self-esteem, a sense of responsibility, and promote proper development. Because the family unit is of the utmost importance, we endeavor to promote its strengthening. To do this we have Christian-centered values. We encourage parental involvement and provide support services. At Kid's Korner, we have an open-door policy and parents are welcome to visit at any time.
Meet Dan and Jennifer Buck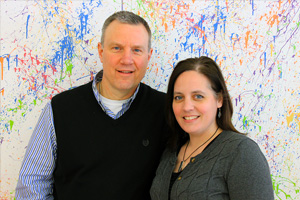 Quality care for all children and the strengthening of the family unit are at the heart of Kid's Korner Educare, founded by Daniel Buck in 1991. His wife, Jennifer, joined the staff in 1994 as the Education Director.
Kid's Korner's curriculum includes art, literature, physical development, social thinking, character development, cooking, music, pre-reading, field trips, language, math, and science, an approach which earned them National Accreditation from NAC, NECPA and the State of Minnesota Parent Aware 4-Star Rating.

The Bucks are parents of five children, two of whom have Special Needs. This has led Dan and Jennifer even closer to extensive community involvement and advocacy for all children and especially those with Special Needs. Together they have served on numerous local community and regional organizations. They have done consulting for non-profit businesses, start-up childcare businesses and helped in the areas of Training and Professional Development. Additionally, they are active members of Sacred Heart Catholic Church.

Their heart's passion is best expressed through this quote from Dan's Master's Thesis: "One of the most important decisions a parent will be called on to make in the early years of their child's life is the selection of a quality child care provider and early childhood education program…The individual whom a parent will choose to care for their child will influence and set the foundations of the child academically, morally, and socially. Therefore, the care that a parent chooses will ultimately affect the outcome of their child's entire life."

Dan holds a Master of Arts Degree in Business Management and Organizational Communications from Concordia University in St. Paul, MN.
Jennifer holds a Bachelor of Arts Degree in English and a Bachelor of Science Minor in Theology from the College of Saint Benedict/Saint John's University in Collegeville, MN and a Bachelor of Science Degree in Elementary Education from the University of Minnesota – Mankato, MN.
Together, their hobbies include family trips to the Boundary Waters Canoe Area Wilderness. Hunting and fishing and other outdoor activities with their children. They also enjoy supporting their children's participation in sports, being actively involved in Steele County 4-H, along with gardening, photography, woodworking and quilting.
Contact Details
600 Florence Avenue Owatonna, MN 55060
507-451-0312